Your support matters, Make a Donation
The vision of Worthy Beyond Purpose is for all children to learn relevant and accessible mindfulness and meditation practices which can be easily implemented in their every day lives. Mindfulness is paying attention, with curious kindness, to yourself, other people, and the world around you.
We guide youth to learn the skills of focus and awareness, emotional regulation, compassion, adaptability, and how to calm their own nervous system.
In addition to this knowledge being taught to young people , we believe that a healthy mindfulness practice starts in the home. We teach for parents and teachers how to create personalized mindfulness practices for themselves . Children learn by example so it is vital to have the practices and behaviors modeled by the adults in their lives..
This will create a tremendously positive impact in the world. This is the change we've been waiting for, the change our children need to successfully navigate the busy world we are handing down to them. Now is the time for a paradigm shift…
BE THE CHANGE YOU WISH TO SEE IN THE WORLD.~ Gandhi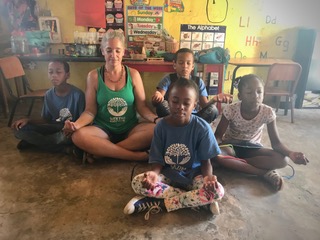 Unfortunately, schools and after school programs do not have the funding for these programs yet, so your donation will help us to continue our work and continue our mission to help transform the world through meditation and mindfulness tools and practices.
Over the past two years Worthy Beyond Purpose has been volunteering at Boys and Girls Club, YMCA, A Place Called Home, Walgrove Elementary, Di Vinci Charter School, Yoga Nest, and has held workshops at many events for kids and adults. We'd love to make this our life's work, so your donations will go directly into the programming.